BITCHIN' WAVES - texturing and volumizing sea salt spray for "beachy" waves - 7oz./207ml.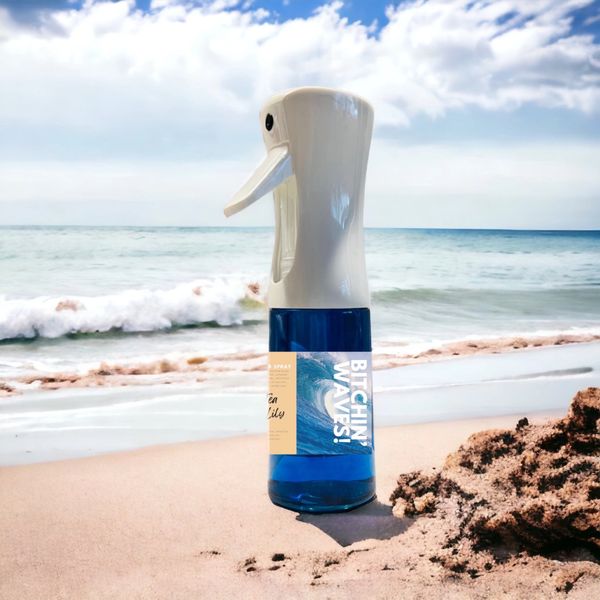 Bitchin' Waves is a hair styling product that is designed to give lots of texture and volume plus create beachy waves in your hair - and is made with organically-sourced ingredients; including natural Dead Sea salt, organic coconut blossom nectar, organic Aloe Vera leaf juice and MCT (fractionated coconut) oil. When applied to damp hair, Bitchin' Waves sea salt spray helps to create texture and volume, giving your hair a tousled, natural look. It also helps to absorb excess oil and moisture from the scalp (which can help to extend the life of your hairstyle), while the organic coconut blossom nectar leaves a soft, silky sheen. Bitchin' Waves sea salt spray is a popular choice for those who want to achieve a natural, effortless look without using harsh chemicals or heat styling tools. 7oz./207ml. bottle.
Ingredients:
Deionized Water, Sodium Chloride (Dead Sea Salt), Coconut (Cocos Nucifera) blossom nectar, Aloe Barbadensis (Aloe Vera) Leaf Extract, Magnesium Sulfate (Epsom Salt), MCT (Fractionated Coconut) Oil, Polysorbate 20, Germall Plus (preservative), Premium Fragrance Oil. 
Directions:
Shake well before using. Spray from your roots to the ends on damp or dry hair, then scrunch sections of your hair to create texture for a casually messy look. Let air dry or blow dry on lowest setting.
NOTE: this product contains a natural scent from the coconut blossom nectar. It is sweet - almost honey-like.  This may slightly alter any fragrance added to the product. 
Note: All of my products are handmade from SCRATCH, using only the highest quality and/or organic substances.  I do not use premade or "bulk bases" - so there's no added and undesired chemicals or substances which can't be pronounced contained in my products (like what you may find from some others). Due to these items being created in small batches, there is of course, a possibility that things such as texture, density, color and even clarity may vary from batch to batch. Overall performance is not affected by any of these slight variations.