Laundry Scent Booster, Odor Eliminator and Fabric Softener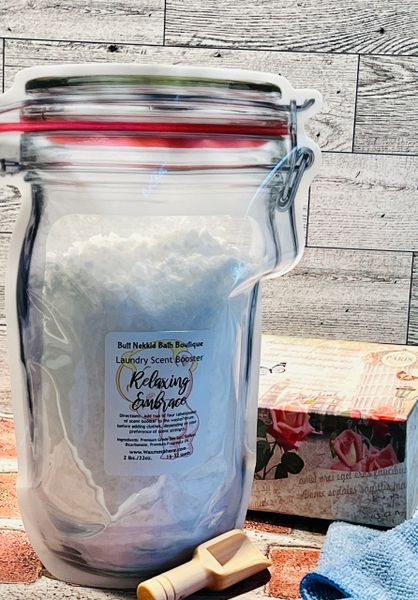 Laundry Scent Booster, Odor Eliminator and Fabric Softener: helps prevent wrinkles, fights static cling and adds a clean, fresh scent to your clothing that lasts! 
Select your scent from the drop-down menu  or select "Choose Your Own" for a scent not listed in the drop-down. NOTE: most regular fragrances may not be strong enough to leave a lingering fragrance, however the benefit from using this product is still great; and by selecting "Choose Your Own",  you acknowledge this. 
Directions: Add two to four scoops of Laundry Scent Booster to the bottom of your washing machine drum before adding clothes, then just add your regular laundry detergent! Do not put the powder in the soap, softener, or bleach compartment. This goes right in the drum. Your clothes will come out super soft and static-free, with a soft, beautiful scent! Safe for HE washers.  Comes in a resealable pouch with scoop. You can transfer it to a jar, or keep it in the sealed pouch, away from moisture.
Each package contains 2 lbs. (32 oz.) of Laundry Scent Booster; enough for up to 32 loads of wash.  It contains premium grade Ocean Salt (sea salt), which helps soften clothing and reduces static; sodium bicarbonate, which naturally removes even the most stubborn odor, and premium grade fragrance oil.
Disclaimer: This produce is not for human consumption; may be harmful if swallowed. Please keep out of reach of children and pets. May irritate eyes.  If in eyes, rinse with water. Not for use directly on body or in the bathtub.