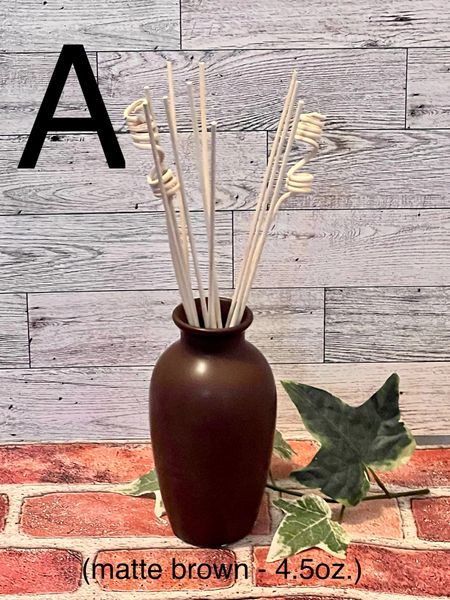 Reed diffusers are an alternative to candles, wax warmers and other products that make your home smell pleasant. Combining luxurious scents with decorative elements, they're a great finishing touch to any room in your home.  
Our special blended diffuser oils contain no alcohol, no DPG and no harsh chemicals!  
Diffuser vessels come with your choice of 12" natural rattan reeds or 12" black rattan reeds, and a 4oz. bottle of diffuser oil in your choice of fragrance. 
I have sourced out the highest quality reeds to give the maximum scent disbursement. Diffuser vessels range from 3oz to 8oz sizes. Please select the LETTER style of the jar you'd like, and the COLOR of reeds.  Natural reeds (12) come with ten 3mm straight and two 3mm Curley reeds.  Black reeds come with twelve 3mm straight reeds. Also add the scent of diffuser oil you'd like.  Diffuser oil comes in a 4oz. size, enough oil for up to 6 months of diffusing. Additional refills can be purchased HERE.
________________
How To Use: Fill your vessel half way with diffuser oil. Place reeds in the vessel, making sure that it is not "top heavy" (reeds should be no longer than twice the height of the vessel).
mallow reeds to soak in the diffuser oil for a minimum of 8 hours, then turn the reeds over, to ensure the oil has saturated the entire reed.