RTS - Luxurious Body Whip - Japanese Pear & Ginseng - 6 oz.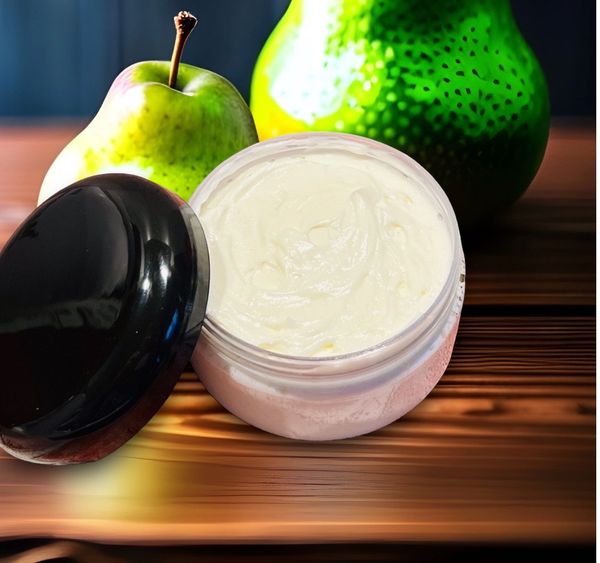 READY TO SHIP
"Japanese Pear & Ginseng"
Luxurious Body Whip
For hydrated, soft, supple and healthy feeling skin!
My luxurious body whip is handcrafted from scratch, using only the finest ingredients (most are organic) - then whipped for maximum fluffiness. Its decadent, velvety texture absorbs quickly with a non-greasy finish, leaving your skin feeling soft and healthy. This emulsified body whip formula is made with organic Mango, Kokum and Cupuaçu butters - plus organic jojoba oil, grapeseed oil and avocado oil. There's nothing in it that can't be pronounced…just amazing, good-for-your-skin stuff!  There's no added colors or dyes, no glitter, no mica...nothing except all the goodness your skin needs! And...just a little bit goes a LONG way! 
SCENT:  
Japanese Pear & Ginseng:
 a "clean and fresh" Far-East fusion of green Japanese pear with bold, red ginseng, hints of peach blossom, amber and musky vanilla.
KEY INGREDIENTS:
MANGO BUTTER: is rich in vitamins A and E and is extremely nourishing to the skin. Mango Butter is great for all skin types since it is non-comedogenic (it won't clog pores). It contains essential fatty acids and antioxidants that make it a wonderful choice for mature skin as well. This rich butter can even help benefit those suffering from skin conditions such as eczema or psoriasis.

KOKUM BUTTER: the antioxidants in kokum butter helps in the regeneration of cells, and regular use helps prevent wrinkles while healing and repairing skin.

CUPUACU BUTTER: is an excellent emollient that restores elasticity to the skin while providing anti-oxidants and hydration. It is considered a "super-moisturizer" because of its hydrophilic (water-loving) properties. As it carries water to the skin it makes skin supple, soft and more elastic.

JOJOBA OIL: It is believed that jojoba oil can affect and balance sebum production to acne prone skin. It revitalizes and provides moisture that keeps skin supple and beautiful. Jojoba oil absorbs easily into the skin, and delivers hydration and moisture.
GRAPESEED OIL: packs a powerful punch thanks to natural stores of antioxidants and skin-promoting compounds. High amounts of omega fatty acids – especially linoleic acid and vitamin E - help maintain healthy moisture levels in the skin. 
AVOCADO OIL
: The beta carotene, protein, lecithin, fatty acids, and vitamins A, D, and E found in avocado oil help moisturize and protect your skin from damaging UV rays and also 
increase collagen metabolism
PREMIUM FRAGRANCE OIL:  All of our premium fragrance oils are skin-safe and phthalate free.
________________________
Complete Ingredients: distilled water, garcinia indica (organic kokum butter), mangifera indica seed (organic mango butter), theobroma grandiflorun (organic cupuaçu butter), Behentrimonium Methosulfate (BTMS50 emulsifier), Vitis Vinifera (grapeseed oil), Simmondsia chinensis (organic jojoba oil), 
Persea
 Gratissima (avocado oil),  vegetable glycerin, Germall Plus (preservative) and premium fragrance oil. 
________________________
HOW TO USE: Apply to clean, dry or slightly damp skin. For best results, use liberally after bathing or showering to help seal in moisture and nourish the skin.