Magkin (Magnesium-Pumpkin Body Cream)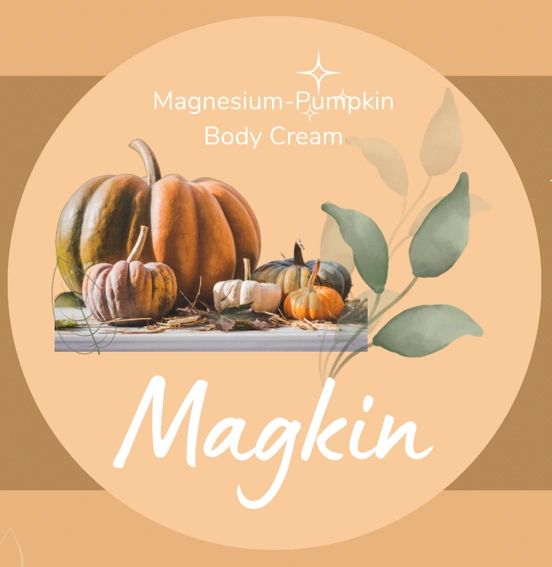 MAGKIN
Magnesium-Pumpkin Body Cream
This lightweight cream absorbs quickly into the skin and has been formulated to help relax sore muscles and replenish the much needed and necessary Magnesium to your system. Apply this cream before bedtime to tired and aching muscles, and you'll be ready for a good night's sleep! 
Each 4oz jar (3.75oz. net wt.) contains on average 3,500mg. of Magnesium Chloride (more than twice the amount of many other brands).
ACTIVE INGREDIENTS:
Magnesium Chloride is a safe, small molecule of magnesium that is essential to over 300 systems in the human body.  When someone is deficient in magnesium they can start to have other issues such as migraines, trouble sleeping, leg and muscle cramps and  even "RLS" (restless leg syndrome). Many things deplete us of magnesium in our day to day lives, and sources of magnesium are limited. The most effective way to replenish magnesium without digestive issues is through skin absorption, so our specially formulated cream is the perfect solution!
Pumpkin seed oil (PSO) is rich in vitamin E, zinc, omega 3- and 6- fatty acids as well as antioxidants; therefore it has tremendous benefits for the skin in terms of retaining moisture, fighting free radicals and maintaining a youthful appearance. High amounts of zinc and vitamin E have also been known to improve skin tone, help wounds heal more rapidly, fight acne and help with skin renewal. Lastly, many of the minerals and vitamins can have anti-aging effects as well.
How to use:
Using a small, quarter-sized amount, 
APPLY BEFORE BED – Apply to stomach, back, legs, or bottoms of feet

before bed. For muscle cramps or pain, apply any time; directly on problem area.

FAST ABSORBING - You

get 100% absorbable elemental magnesium delivered directly to the cellular level through your skin. 

It utilizes the bloodstream to circulate throughout the entire body and intelligently deliver magnesium to the specific sites where your body needs it most.

TOPICAL MAGNESIUM

CREAM 

is considered to be one of the best natural remedies for sore muscles & various bodily

aches. It is self-regulatory, so your body will only absorb the amount of magnesium it needs. 
MAGNESIUM-PUMPKIN CREAM HAS BEEN KNOWN TO- 
Soothe skin

Relieve pain

Reduce stress

Improve sleep

Relax cramped or restless

muscles and tendons
Warning: Do not use on open sores. Keep away from eyes and mouth. Do not ingest. Some itching or tingling may occur. This is quite a common reaction when first applying magnesium topically, however it will subside with continued use.  If itching or tingling is too much to bear, rather than applying a lot, use smaller amounts of cream and apply more often, until your body has acclimated to magnesium absorbtion. This product has not been evaluated by the Food and Drug Administration. This product is not intended to diagnose, treat, cure, or prevent any disease. If you have heart, liver or kidney medical conditions, please consult with your physician prior to using this, or any magnesium product. 
——————————
Ingredients: 

Deionized Water, Cetearyl Alcohol, Virgin Organic Cucurbita Pepo (Pumpkin) Seed Oil, 100% pure Magnesium Chloride, Caprylic-Capric Triglycerides, Glyceryl Stearate, Cetyl Alcohol, C14-C22 Alkane, Polysorbate 60, Oryza Sativa (Rice) Bran Extract, Rosmarinus Officinalis (Rosemary) Leaf Extract, Helianthus Annuus (Sunflower) Extract, Tocopherol, Sodium Gluconate, Phenoxyethanol, Caprylyl Glycol, Hexylene Glycol, Ethylhexylglycerin, premium fragrance, FDC colorant, natural trace minerals. Note: although a "base" was used to initially create this product, a new "from scratch" recipe is currently in the works, to create a better and healthier product.