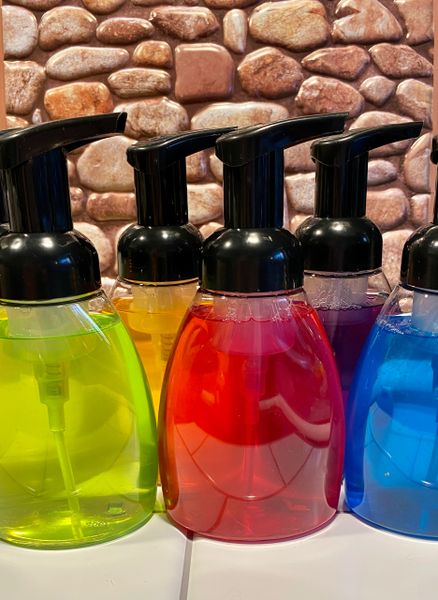 Foaming Hand Soap - 8oz.
Our Foaming Hand Soap begins with the gentlest Castile soap, made with certified organic oils of Argan, Jojoba and Hemp, plus natural, vegan and biodegradable ingredients. There's no added detergents or foaming agents and unlike other Castile soaps, it does not contain palm kernel oil because it's cultivation leads to the destruction of our rainforests.  I've added a touch of organic Aloe Vera as well, plus premium fragrance oils that will linger on your skin!   
Don't see the scent you want in  the drop-down list?  Select "CUSTOM" at the TOP of the drop-down list...check the "custom scent" box, and type in the scent you would like your foaming hand soap in!  It's THAT simple!   
Don't forget to pair this foaming hand soap up with some Bodacious Body Budder in a matching scent! It will help keep your hands soft, smooth and young looking!  Order some here! 
Directions for use: shake well before use. Pump one or two times into the palm of your hand. Rub hands together for at least 30 seconds, then rinse with warm water. 
NOTE:  this foaming hand soap contains organic aloe vera gel, which may separate and rise to the top. This is normal, and shaking the bottle before each use will help incorporate the aloe for that use. 
——————————
INGREDIENTS: 
distilled water, coconut oil*, potassium hydroxide, Argan oil*, Jojoba oil*, Hemp oil*, Olive oil*, Aloe Vera gel*, Vegetable Glycerin*, premium fragrance oil.
——————————
* Certified Organic Ingredients