Bubble, Bubble, Toilet Trouble - The Turdminator pre-poo spritz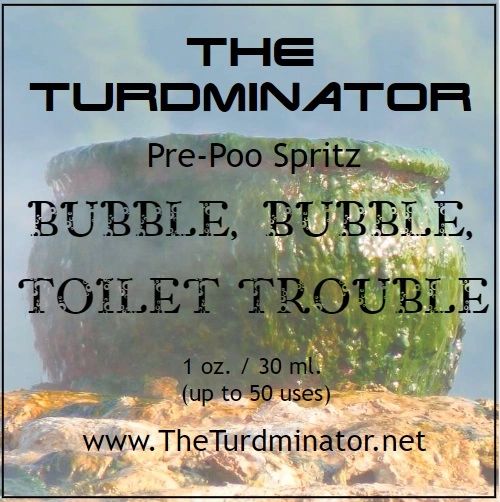 BUBBLE, BUBBLE, TOILET TROUBLE - a pinch of toad's toe and eye of newt...naw..not really.  "Bubble Bubble Toilet Trouble" is a scent that promises a spellbinding bathroom experience, with sweet berries that make every trip to the loo feel like a whimsical adventure, while subtle hints of florals and a touch of vanilla woods ensure that even your bathroom break becomes a fragrant fairytale. It's the perfect potion to banish bathroom blues and turn every flush into a magical journey!
-----------------------------------------
Sometimes it's not easy "going" in public places - but with THE TURDMINATOR pre-poo spritz - now you can poo without the pee-u!
WHAT IS THE TURDMINATOR?

Unlike other sprays and deodorizers which simply mask odors, The advanced formula in The Turdminator pre-poo spritz actually eliminates unpleasant and embarrassing odors, so no one will ever know that you had to "go"!

The Turdminator is easy to use!  Simply spray 3 to 4 times into the toilet bowl before having a bowel movement. Our advanced formula, which includes natural essential and fragrance oils, provides a protective barrier on top of the water against gasses and odors trapped below - and it lasts throughout flushing, leaving the air smelling clean and fresh. IT REALLY WORKS!
Available in a 1 oz. pocket/purse size (for those on-the-go moments), 2 oz. home/bath size and 8 oz. refill size (with a flip-top cap). The Turdminator offers the perfect scent for everyone...with over fifty fragrances to choose from!
------------------------------