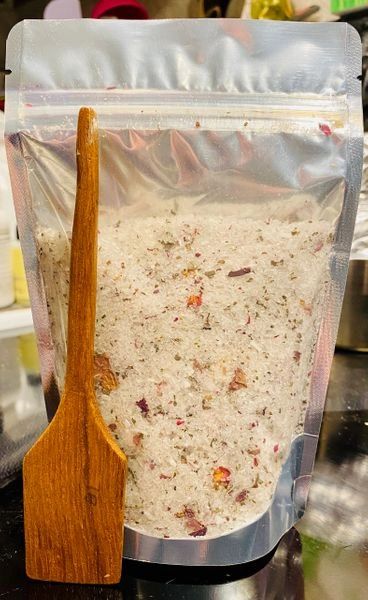 MADE TO ORDER
Soak. Relax. Enjoy. Let the day's stress melt away with this luxurious blend of mineral-rich salts and botanicals. Our Bath Salt Soak includes, Dead Sea Salt, Pink Himalayan salt, Epsom Salt, Sterling rose petals and/or Pink rose petals and lavender buds, Comfrey Leaf, Aloe Vera, bicarbonate of soda, Kaolin Clay and may contain Organic Oatmeal and Dried Orange and Lemon Peels. Comes with a wooden spatula and muslin bag. 8 oz. resealable package.
Simply scoop some into the muslin bag and toss it into the tub for a relaxing botanical salt soak!
Please add your scent selection EXACTLY as it is on the scent menu.  No custom blends. If you wish to order more than one scent (additional packages), please add each scent individually.