Attack Of The Klingons - The Turdminator pre-poo spritz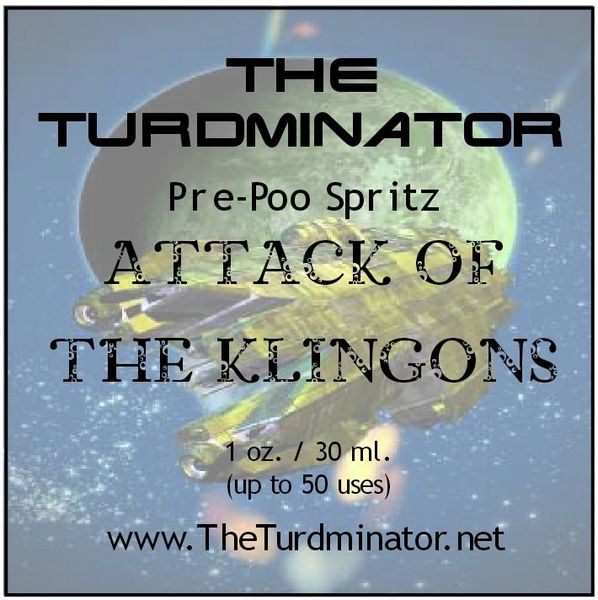 ATTACK OF THE KLINGONS  - a scent that boldly goes where no fragrance has gone before, blending the crisp command of bergamot with the calming lavender of a diplomatic mission, but beware - it packs a spicy punch with cinnamon, black pepper, and a smoky twist of leather and tobacco that'll have even Klingons asking for your secret to interstellar charm. So, set your phasers to fabulous and prepare to conquer the universe smelling like a spacefaring sensation!
------------------------------
Sometimes it's not easy "going" in public places - but with THE TURDMINATOR pre-poo spritz - now you can poo without the pee-u!
WHAT IS THE TURDMINATOR?

Unlike other sprays and deodorizers which simply mask odors, The advanced formula in The Turdminator pre-poo spritz actually eliminates unpleasant and embarrassing odors, so no one will ever know that you had to "go"!

The Turdminator is easy to use!  Simply spray 3 to 4 times into the toilet bowl before having a bowel movement. Our advanced formula, which includes natural essential and fragrance oils, provides a protective barrier on top of the water against gasses and odors trapped below - and it lasts throughout flushing, leaving the air smelling clean and fresh. IT REALLY WORKS!
Available in a 1 oz. pocket/purse size (for those on-the-go moments), 2 oz. home/bath size and 8 oz. refill size (with a flip-top cap). The Turdminator offers the perfect scent for everyone...with over fifty fragrances to choose from!
------------------------------