Super-Cute Heart Melts (1/23)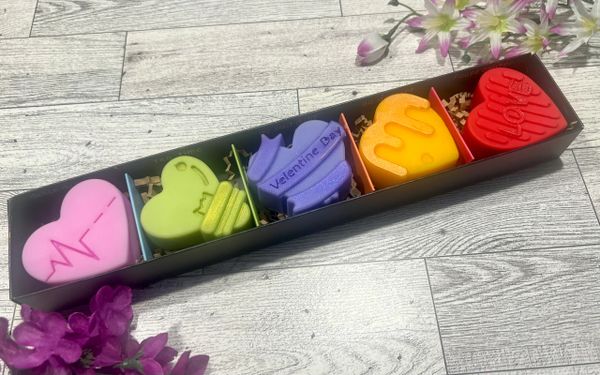 Super-
Cute heart melts!   Each heart weighs just over an ounce, for approximately 5.20 oz. total of wax in this package. 
You may notice some fancy French words on the box: I've made the melt scents to somewhat reflect those words and their translations. 
Delice Du Soir (Evening Delight): a sweet and fruity blend of Berry Compote and Don't Marsh My Mallow - notes of cherry, raspberry, strawberry leaf and creamy, sweet puffy marshmallow, dusted with powdered sugar, sitting on a base of cozy amber with a trace of smoked vanilla bean. 
Tea Time: The Earl Grey - a classic high-tea experience with notes of bergamot, lemon, violet leaf, black tea, rose hips, sheer jasmine and white musk.
Au Saut Du Lit (out of bed): Lavender Latte - warm pastries, a subtle hint of lavender and a splash of creamy coffee make a cozy, warm fragrance reminiscent of a cold day spent in a favorite cafe. 
Au Dessert (to the dessert!): S'Mores - a delicious blend of sweet graham cracker combined with melted chocolate and sticky marshmallows. 
Pause Gouter (snack break): Sweet Strawberry - fresh, sweet strawberries and sugar.