NEW SCENT SAMPLER #4 (LIMITED TIME ORDER)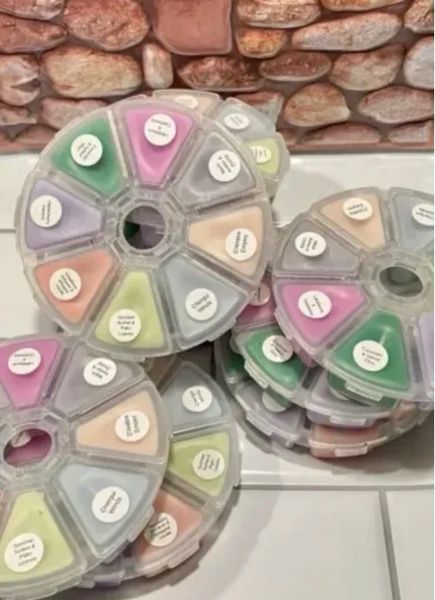 New Scent 
Sampler #4
Comes with eight new scents (many of them are "Platinum" scents), each weighing approximately 3/8 ounce (the perfect sample size!) for a total of approximately 3 oz. of wax.
If purchased alone, this item will be sent via USPS First Class Mail to the USA ($4.15). If additional items are purchased, then the "flat-rate" shipping will apply, and I will refund the $4.15 charged by the website, via the method of payment used for your purchase.
Sampler #4 contains the following:
1.) Midnight Ambiance : Smoky blackberry merlot sparkles in a smooth tobacco flower, whiskey, and cocoa marshmallow on top of crackling sandalwood and cedar with hints of amber and patchouli.
2.) Almond Blossom & Wildflower: creamy, nutty blend of wild flowers, almond, vanilla cream, tonka, musk.
3.) Anitta (Sol de Janeiro type): fresh passionfruit nectar, spicy pink patchouli, sweet jasmine honey, warm vanilla, and tiger orchid in full bloom. 
4.) Chateau de Versailles: A subtle breeze brings the fragrance of coniferous trees and citrus fruit through the halls of Versailles, where it mingles with the fragrance of freshly waxed wood floors and paneled walls. Also contains notes of fancy people and hundreds of years of history.
5.) Denim: a complex blend of fresh breeze, lemon, lime, cyclamen, water lily , soft woods, sweet amber and sheer musk.
6.) Helllooooooo Sailor!: Who doesn't love a man in uniform? Particularly when he smells SO GOOD. An amazing fragrance that captures the spirit of a man who belongs to the sea, but cleans up nicely for shore leave; with notes of  pink peppercorn, Calabrian bergamot, Sicilian Lemon, Bulgarian rose, Peppermint, Lavandin absolute, Indian sandalwood, Haitian vetiver and Indian patchouli.
7.) Orange Petal Marshmallow Whip:  a sweet and creamy floral of orange blossoms, vanilla, marshmallow and a subtle hint of amber. Inspired by Killian's Love Don't Be Shy. 
8.) Zoot Suit: With jacket arms that reached the fingertips, pants that were tight at the waist, bulging at the knees and choked at the ankles, a key chain that extended to the knees and a fedora-like hat with a feather attached, it was nearly impossible to ignore a sharp-dressed man wearing a zoot suit!  
Notes of crisp apple, floral violet, incense, spiced cinnamon, clove, warm cashmere, cedar, sandalwood, musk and patchouli.
Keep an eye out for the NEXT New Scent Sampler!