NEW SCENT SAMPLER #3 (LIMITED TIME ORDER)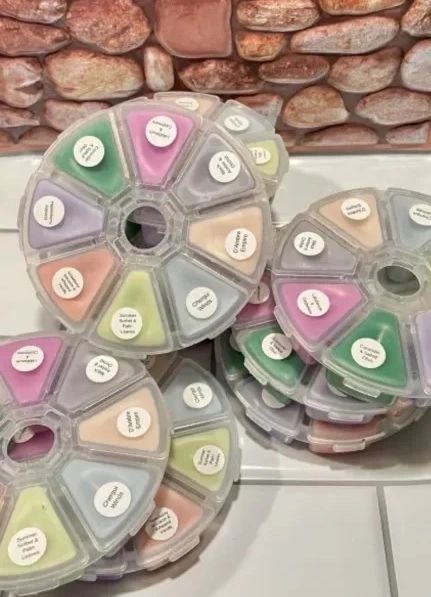 New Scent Sampler #3
Comes with eight new scents (many of them are "Platinum" scents), each weighing approximately 3/8 ounce (the perfect sample size!) for a total of approximately 3 oz. of wax.
If purchased alone, this item will be sent via USPS First Class Mail to the USA ($4.15). If additional items are purchased, then the "flat-rate" shipping will apply, and I will refund the $4.15 charged by the website, via the method of payment used for your purchase.
Sampler #3 contains the following:
1.) Turquoise: much like the spiderweb of veins which creates the beautiful stone, this fragrance is a sophisticated blend, woven of bergamot, lemon, jasmine, rose, patchouli, and amber.
2.) Sugared Rose Petals: warm vanilla, fresh lemons, and rose petals with a warm dry down of musk and cedarwood make up this playful, sweet fragrance.
3.) Tree Of Life: the tree of life represents our personal development, uniqueness, and individual beauty.  This fragrance is unique and beautiful, with notes of Bayberry, Honeydew, Tangerine, Peony, Apple Blossoms, Jasmine, Vanilla, White Musk, and Patchouli.
4.) Your Skin…But Better: Iris and powder notes meld with musk and cashmeran to give this fragrance a subtle "you, only better" glorious scent.
5.) Linen & Sunshine: crisp linens, white orchid and apple blossom combine to evoke the nostalgic memory of linen sheets dried by sunshine and fresh air. This scent is inspired by Nest New York's Linen.
6.) Good Morning: the first rays of morning sunshine awaken the fresh fragrance of the Italian countryside. Notes of lemon, mint, rosemary, lavandin, jasmine, cedar and musk evoke the fragrance of clean linens, wind blowing through grass and morning sunshine.
7.) Champagne Cocktail: a bubbly delight with notes of melon, pear, sparkling wine, freesia, patchouli, musk.
8.) Continental Breakfast: an early morning wake up call - a steaming cup of cappuccino and a basket of fresh, flaky pastries. Continental breakfast on vacation is the perfect start to a day of exploring a new city! Notes of freshly baked pastries, roasted coffee, hazelnut crème, cappuccino foam, vanilla, cardamom and sandalwood.
Keep an eye out for the NEXT New Scent Sampler!