NEW SCENT SAMPLER #1 (LIMITED TIME ORDER)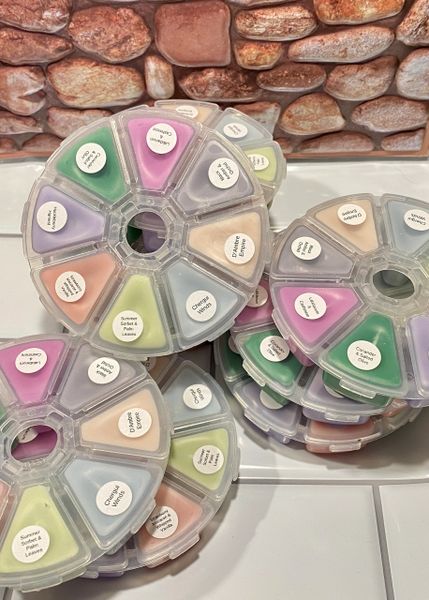 New Scent Sampler #1
Comes with eight new scents, each weighing approximately 3/8 ounce (the perfect sample size!) for a total of approximately 3 oz. of wax.
If purchased alone, this item will be sent via USPS First Class Mail to the USA ($4.15). If additional items are purchased, then the "flat-rate" shipping will apply, and I will refund the $4.15 charged by the website, via the method of payment used for your purchase.
Sampler #1 contains the following:
1.) D'Ambre Empire: "Extravagant!" is one word we're using to describe this fragrance! This mystical blends contains notes of tea, incense, vodka, champagne, cumin, coriander, cinnamon, ambergris, vanilla and leather. I can't stop sniffing this scent and it is quickly becoming one of my favorites!




2.) Chergui Winds (compare to Chergui by Serge Lutens): named after a dry and hot wind of Morocco, this creation is a magical journey of honey, musk, incense, tobacco leaf, hay sugar, amber, iris, rose and sandalwood. You'll fall all over yourself once you get a whiff of this amazing creation!




3.) Summer Sorbet & Palm Leaves (compare to WW Starfruit Sorbet + Palm Leaves): lush palm leaves and sea salt air with juicy, tangy fruit sorbet.




4.) Strawberry Macaron & Whipped Vanilla (compare to WW Strawberry Macaron & Vanilla Whip): a sweet and tantalizing blend of fresh strawberries and rhubarb, with creamy vanilla and spun sugar.




5.) Huckleberry Harvest: a bouquet reminiscent of blueberry with raspberry, grape, strawberry and peach top notes with a sweet background.




6.) Coriander & Salted Olive: fresh and herbal! This scent begins with coconut, bergamot, and cassis leading to spicy notes of rosemary, cardamom, thyme, and coriander. It leaves lingering notes of green olives, a salty sea breeze, and amber wood.




7.) Labdanum & Cashmere: clean, crisp, sexy and musky! A gorgeous blend of lemon zest, woody balsam and amber and oakmoss.




8.) Black Amber & Orchid (compare to WW's Orchid & Black Amber): super sexy! Black amber, Jasmine and musk create a deeply intriguing, sexy and sophisticated fragrance.
Keep an eye out for the NEXT New Scent Sampler!