Natural Dry Shampoo (with brush) - 3.5oz. (Coming in May!)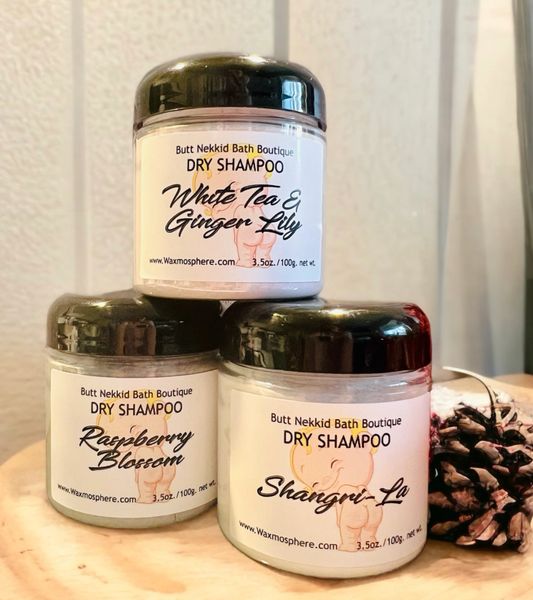 COMING THIS MAY!
Extend the freshness of your hair in-between washings with Butt Nekkid Bath Boutique's dry shampoo. An all-natural dry shampoo that absorbs oily residue and odor while supporting a healthy scalp and hair. 

Formulated with high-performing ingredients, this dry shampoo absorbs oil and adds instant volume and texture, while revitalizing your hair. Choose your favorite Butt Nekkid Bath Boutique fragrance to add, and follow it with some dry oil body spray, or Bodacious Body Budder in the same (or complimenting) scent, so you stay smellicious all day!
Our natural dry shampoo is vegan, and aluminum-free, and works great with all hair colors and types. A little goes a long way!
Select "LIGHT" for blonde to medium brown, "RED" for red hair colors, or "DARK" for dark brown and black hair colors.
Suitable for All Hair Types
Vegan & Cruelty-Free
Manufactured in the USA

No Parabens, No Sulfates, No Phthalates

Aluminum-Free
Recyclable/Reusable Jar with Lid
How to use dry shampoo:
Dip the powder brush (included) into the dry shampoo and tap off any excess. Part your hair at its oiliest sections and brush the powder directly to your roots. You may want to wrap a towel around your shoulders as not to get powder on your clothing. Use fingers to further distribute the product. Wait 3 to 5 minutes and then brush and style your hair as normal.
This eco-friendly dry shampoo comes packaged in a 3.5oz. jar with Kabuki brush and will last a long time! Store this dry shampoo in a cool and dry place. 
Ingredients: Organic Arrow Root Powder, Sodium Bicarbonate, White Kaolin Clay, Activated Charcoal (Dark formula), Red Iron Oxide (Red formula) Premium Fragrance Oil.