Mermaids Tail Cupcake Melts Sampler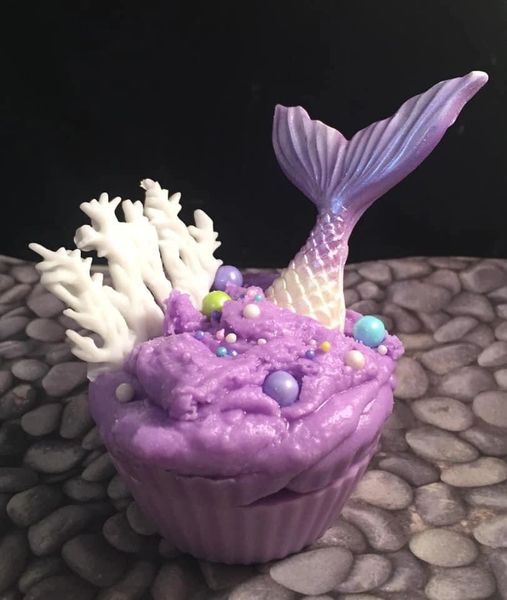 Available in RTS on June 1st (free shipping - this item ships alone)
_______________
This sampler contains six cute mermaid tail wax melts in summery/beach/mermaid-themed scents! Each melt weighs approximately  3.5 - 5.5oz. and is hand-piped (decorated) in summery colors of wax with a shimmering mermaid tail. May contain nonpareils, mica, glitter or rhinestones. Makes a great gift for the beach or mermaid lover! 
———————
SAMPLER SCENTS:
Be A Mermaid and Make Waves: a fruity oceanic scent. Beach plum and hibiscus with sweet pea, heliotrope, cassis, white cedar and tonka bean.

Let's Be Mermaids: Himalayan salt, Valencia orange, coconut water, Bulgarian lavender, vanilla flower, sea spray mist, driftwood, cedar, beach moss and amber sands.
Mermaid Kisses & Starfish Wishes: juicy peach, mandarin orange, grapefruit, cranberry juice, a dash of bitters, peach schnapps, rose absolute, cognac and musk.
Mermaids' Lagoon (compare to BBW Mermaid Lagoon): a musky green fragrance with wonderous ocean water, blooming tiare flowers, and crisp sea mist notes.
Secretly A Mermaid: Raw coconut, Pink Pomelo, Kiwi Nectar, Rain soaked Palm, Pineapple Leaves, custard apple, Sun bleached driftwood, vanilla orchid and sugar cane.
Twisted Mermaid: A totally yummy, scrumptious combination of berries and citrus with sugary sweetness and hints of vanilla.

———————

NOTE:  Any additional items added to your order which are not charged a shipping fee on the website upon checkout will be invoiced separately for shipping. Photo above is an example of the actual melts you will receive. Colors will vary depending on scent.