Christmas Tin 10-pack (Out Of Stock)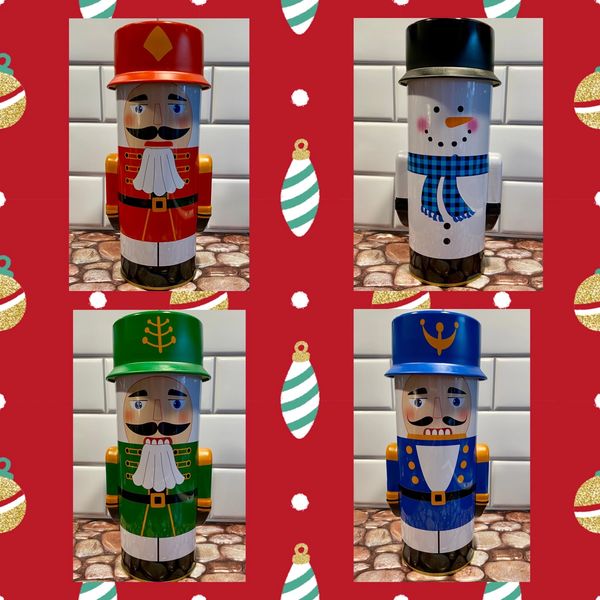 CHRISTMAS WAX  TIN
Why not Christmas themed scents all year? Each 1oz. scalloped tart is individually packaged - and together they come in a cute decorative metal holiday tin that can be reused for years to come! 
———————
SCENTS INCLUDED:
'Tis The Season: Clove buds and cinnamon sticks with vanilla.
Blitzen's Breath: A frosty blend of Evergreen, Peppermint, and a dash of fresh vegetables!  Yes, I said vegetables....what else would Blitzen munch on?
Candy Cane Crack: candy cane pieces intermingle with freshly baked sugar cookies.
Cinnamon & Spruce: Northern pine, Douglas fir, and Blue Spruce with spicy cinnamon, clove, rosemary and woody cedar.
First Snow:  you know that feeling when you experience the first snow of the season?  It kind of catches you "off guard"...but in a delightful way!  This scent will do that too - with notes of lime, basil, spearmint and white musk. 
Gingerbread: Gingerbread is truly not just for Christmas or Thanksgiving. Spicy yum that is the perfect cookie scent for any time of the year! 
Holiday Sparkle: fresh blue spruce, tart apple cider, juicy cranberry, and sweet plum.
Jack Frost Mimosa: sparkling champagne and orange zest, with hints of black coconut, sandalwood, amber and fresh vanilla.
Winter Wonderland: A sparkling blend of cool peppermint and fiery cinnamon with notes of crisp apple and creamy nutmeg create this wonderland of holiday scent.
Oh, Christmas Tree: fabulous festive holiday pine.
—————————-
NOTE: this is a limited edition. Sorry, no choice of tins.