A Valentine's Day Gift Box - 4-pack - The Turdminator pre-poo spritz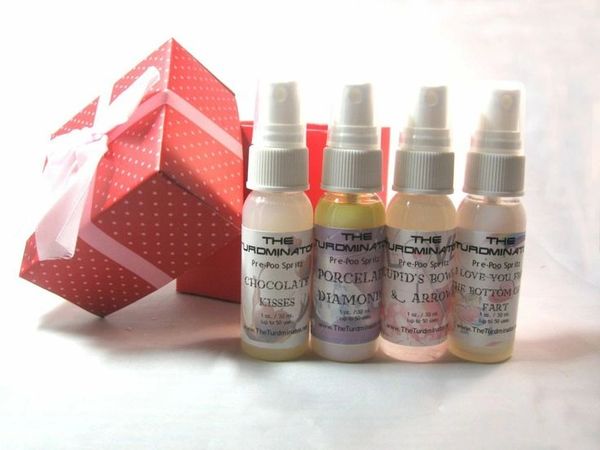 Let your sweetie know just how much you love them this Valentine's Day (and want to be *near* them...uh-heh, uh-heh) with The Turdminator Valentine's Day Gift Box - 4-pack!

Our Valentine's Day gift box comes complete with a 1 oz. bottle of The Turdminator pre-poo spritz in our four most popular Valentine's Day fragrances, including:

* CHOCOLATE KISSES - creamy peppermint and vanilla with bittersweet chocolate. 

* CUPIDS BOWEL & ARROW - the sweetness of berries and powdery heart candies, delicately atop light florals, musks, sandalwoods and champagne.

* SMELLS LIKE ROSES - it really does!

* I LOVE YOU FROM THE BOTTOM OF MY FART - grapefruit, lime, orange, peach, raspberry, fresh oceanic & ozone, jasmine, lily and leafy greens.

Your order will arrive in cute Valentine's Day packaging, perfect for gifting (selection may vary). 

That's enough of The Turdminator to last up to 200 uses!

Fantastic for office gifts too! 
BONUS: Order 4 or more Valentine's Day Gift Box 4-packs and receive a FREE 1 oz. bottle of "Defunk The Trunk" 

------------------------------

Sometimes it's not easy "going" in public places - but with "The Turdminator" pre-poo spritz - now you can poo, without the pee-u!
The Turdminator is NOT simply water and fragrance (which only mask odors like most other toilet sprays), but is instead a blend of natural essential oils and fragrance oils along with our advanced formula which actually neutralizes and ELIMINATES unpleasant and embarrassing odors...so no one will ever know that you had to "go"!
The Turdminator is easy to use! Simply spray 3 to 4 times into the toilet bowl before having a bowel movement. Our advanced formula provides a protective barrier on top of the water against gasses and odors trapped below, while it's odor-eliminating properties remove unwanted smells from the air - and it lasts throughout flushing, leaving the air smelling clean and fresh. IT REALLY WORKS!
Available in a 2 oz. home/bath size, 1 oz. pocket/purse size (for those on-the-go moments) and 8 oz refill size (with a flip-top cap), The Turdminator has the perfect fragrance for everyone...with over 100 fragrances to choose from!
Use The Turdminator
* at work 
* at school 
* at home 
* at a friend's house 
* on a date 
* any time you need to go!
CUSTOMER TESTIMONIALS
"Love it...specially for my husband...LOL!"
"I'm very happy that I purchased this and will be back for more."
"thank you...received today. Fast shipping and great customer service. Really works too!"
"A GREAT gift for my husband! Smells wonderful (much better than the alternative)! This made my day!"
" Got this for a gag-gift for a friend of mine and ended up keeping it for myself...really good stuff!"
I purchased 'Fish Food' and it smells really good! I can't wait to try out some of the other ones."
"Smells great, works wonderfully and was packaged perfectly. Thanks!"
"It works great...I was impressed...I will buy more...thanks!"
"It works...LOL...and it smells great!"
"Emergency Evacuation smelled amazing and makes me want to drink coffee after. LOL."
"Smells Like Roses not only killed any odor, it masked any previous odors."
"I ordered this scent (Litter Box) and Dookie Howser. We love both, and they work! I will be back!"
"This stuff works so well that I've come back for more!"
"We used this as a stocking stuffer and laughs were had. It also smells great!"
"Bought this for my Secret Santee, and she has been raving about it! Thank you so much for making one woman's dreams of a happy household come true! :)"
"Great gift idea, thank you!"
"A great and fun (gag) gift (which is used often). :)"
"Worked as it should. Fragrance strong but not overpowering."
"It arrived promptly and (she) has been raving about it! Thank you so much! :)"
"Leaves a much nicer smell in the bathroom! Works fabulously!"
"This stuff really does work and has made life at home much much sweeter! Thanks!"
"These are amazing!!! Unless you have an outhouse, everyone should have these sprays!!"
"The Turdminator sprays smell wonderful and work great! I love all the clever names of the scents and will try them all eventually!"
"Very nice - reminds my son of his favorite 'manly' scented soap, well received by the menfolk. Return customer, this stuff really works, quick ship and good quality, very happy with our purchases!"
"This stuff really works! It kills eau de poo and also does a nice job getting rid of stinky dog gas lol"