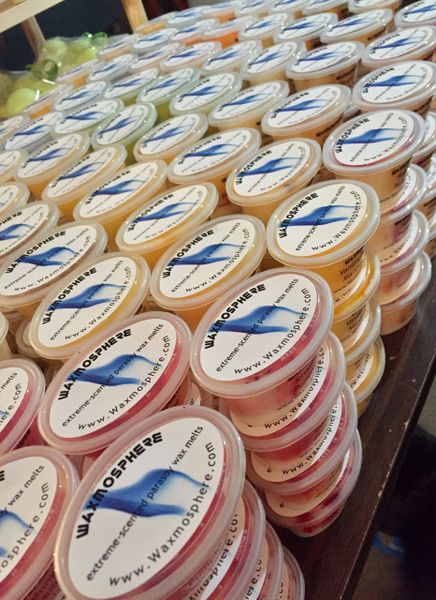 Each 2oz. scent shot cup holds approximately 1.85 oz. of wax and is ready to ship! This listing is a combination of both regular scents as well as some "limited edition" scents.
"Limited edition" scents are:
 * Moon Shadow: a sensual blend of black tea, jasmine, sandalwood and a hint of citrus.

* Driftwood & Sea Salt: an amazing spa-type scent, with notes of citrus, mango, orchid, lily and sea salt soaked driftwood.
* Lemon Sugar Bundt Cake: sweet lemon and freshly baked cake are drizzled with buttery lemon, mandarin zest, caramelized sugar and creamy vanilla.
* Olive Oil & Bergamot: Refreshing citrus and soothing botanicals of lavender and pepper are laced with earthy patchouli and musk.
* Silver Birch & Vetiver: Silver birch leaves, clementine peel and pine cone with white geraniums, vetiver, sandalwood, and sequoia woods.
* Glacier Valley: Earthy oak moss, crisp eucalyptus and fresh winter air with a swirl of amber and hints of geranium and hyacinth.
* Cotton Amber: Light and airy cotton enhanced with the richness of amber, floral and woody notes. 
* Cranberry & Citrus Peel: a bright and fruity blend of Sweet orange and zesty lemon peel, perfectly balanced with tangy cranberry.
* Blueberry Vanilla: Sweet blueberries mixed with rich vanilla make this scrumptious smelling scent.
* White Jasmine Pineapple: a fruity yet sophisticated blend of strawberries, pineapples, and apples blended with peach blossoms and jasmine and finished with dreamy coconut milk, sensual musk and just a hint of basil. 
* Southern Plantation: magnolia and delicate chamomile flowers with juicy, ripe apples, green tea laced with lemon rind, mint leaves, a sliver of honeydew melon...and a nice splash of rum. 
* Calypso Orchid: Lychee, melon, and sun-ripened raspberry are balanced with rose petals, ripe cherries, plums, orchid, gardenia and a comforting base of patchouli-drenched woods.
* Market Front: Chocolate and coffee  with creamy honey and little spice, some coconut and ginger and a dash of maple vanilla sandalwood.
* Orange Dreamsicle: a sweet and creamy blend of orange citrus swirled with rich vanilla.
* Chambord & Champagne **: luscious raspberry liqueur and sweet vanilla champagne. 
—————-
NOTE: Some of these scents are limited edition and are not a part of our regular scent menu. If you would like us to add some of these to our regular line, please visit our Facebook Group at facebook.com/groups/TheTurdminator and request them to be added.